Disney's Grand Californian Hotel & Spa is a deluxe hotel located in the Disneyland Resort. The hotel boasts an Arts & Crafts theme and an incredible location right next to Disney California Adventure. Holding the highest nightly cost of the three Disney resorts within Disneyland, does the Grand Californian Hotel live up to the price?
We've stayed at the Grand Californian Hotel & Spa on multiple occasions. We originally decided to stay at the hotel for our very first trip to Disneyland. Based on other online reviews, we expected the hotel would feel like Disney's Wilderness Lodge combined with Disney's Grand Floridian Resort at Walt Disney World. Were we correct?
Let's get into the details. Click on a link below to jump to a specific section.
Location
We're big fans of Disney hotels that provide walking access to a theme park. The Grand Californian Hotel does one better and is practically located within the Disney California Adventure theme park. The hotel has its own entrance directly into the park near the Grizzly River Run attraction.
The Grand Californian Hotel also has its own entrance into Downtown Disney, the shopping and restaurant district. This is a great perk and also means guests staying at the hotel are only a short walk to the entrance of Disneyland itself.
Summarized, the location can't be beat for Disneyland guests. It's incredible and isn't comparable to anything we've previously experienced at Walt Disney World. Not even Disney's Contemporary Resort and its location near the Magic Kingdom can compete with the Grand Californian Hotel.
Having your room just a short walk away from the theme parks is a perk that may justify the price on its own.
Size and Layout
The Grand Californian Hotel is large, but not as massive as some of Walt Disney World's sprawling resorts. The six-floor hotel has just under 1,000 rooms that include standard rooms, suites and Disney Vacation Club (DVC) villas.
The map above shows the Grand Californian Hotel's footprint and how close it sits alongside Disney California Adventure theme park. The various room segments allow guests to choose rooms offering standard, courtyard, pool and even theme park views.
Getting around the hotel isn't too difficult – especially compared to Walt Disney World hotels. The rooms that are the furthest from the lobby are a decent walk, but it's a walk that's inside and doesn't feel like a massive trek.
Rooms
The standard rooms at the Grand Floridian Hotel are a good size, comparable to the deluxe properties at Walt Disney World. They're a bit smaller than the rooms down the road at the Disneyland Hotel, but here each room has its own balcony or patio.
We had a courtyard/woods room that overlooked the Brisa Courtyard where the Disneyland Monorail passes through. The view was quiet and peaceful, which is noteworthy because the room itself was not. More on this soon.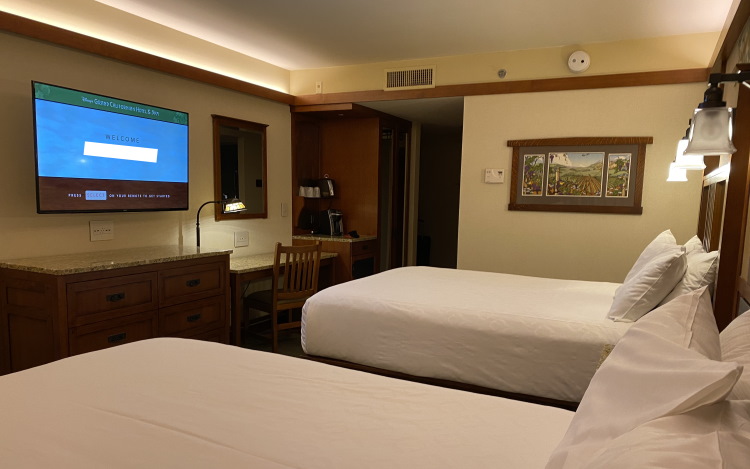 The vast majority of rooms have two queen beds and a small loveseat. The beds are comfortable, as are most Disney hotel beds, and there's a good number of USB and regular outlets. There's some mostly subtle Disney theming in Chip and Dale artwork above the beds and in the bathroom, but nothing too in your face.
The room lighting at the Grand Californian Hotel is one of the highlights, with ambient lighting being the star feature. There's also two small lights above each bed, but we found the ambient lighting around the ceiling (which was dimmable) was the perfect option for us.
The bathroom has two sinks and a nice walk-in shower with a rainfall showerhead. A pocket door separates the shower and toilet from the sink area. We're big fans of a rainfall shower, and we found the water pressure and temperature were on par with any hotel shower.
Now, we do have one significant complaint. The walls at the Grand Californian Hotel are extremely thin. Seriously. We had a similar complaint in our review of Disney's Caribbean Beach Resort, but the Grand Californian took the cake. We could clearly hear low conversations in the nearby rooms. It felt like our neighbors were sitting in our room with us. We don't fault the other guests – they were talking at a reasonable volume. The walls and soundproofing is just that bad. You shouldn't be able to hear people talking in their room across the hall when all the doors are closed.
The noise was so bad that we immediately tried to find earplugs. None were to be found at the gift shop, so we tried our luck at the front desk. Apparently this is a very common complaint and the front desk happily provided a couple sets of earplugs. This was a lifesaver. Plan ahead for the noise as it's easily the biggest knock against otherwise great rooms.
Getting to the Parks
Normally our resort reviews have a section on Transportation. Disneyland is a bit different in that the two theme parks are very close and walking everywhere is the name of the game. In that regard, Disney's Grand Californian Hotel is outstanding with its location bordering the two Disneyland theme parks.
Guests staying at the Grand Californian Hotel can use a dedicated entrance directly into Disney California Adventure.
This is an amazing perk. Security lines were always quick and we were able to get from our room and into California Adventure in a couple minutes. That's insane. The story was the same into Downtown Disney where it was a couple minute journey from our room. Heading to Disneyland itself, it's maybe a five-to-10 minute walk.
Summarized, there's something truly magical about being so close to the parks. This feature alone makes us want to plan another trip.
Dining
There's a variety of dining options at the Grand Californian Hotel. Storytellers Cafe offers a buffet at breakfast, brunch and dinner (with characters at breakfast and brunch). Napa Rose is a table-service location that provides more of an upscale dining experience. The GCH Craftsman Bar & Grill offer a combination of quick-service and table-service options, as well as the hotel's grab-and-go selections. Finally, Hearthstone Lounge has cocktails and a nice selection of appetizers and small bites.
Hearthstone Lounge is outstanding. We didn't need a reservation and it's open late, which was a welcome sight after a long day of travel. We ordered a couple cocktails – all tasty – and quesadillas. The quesadillas were absolutely delicious and was a great intro to the quality food offerings at Disneyland.
Storytellers Café is a strong dining option that checks a lot of boxes for the vast majority of guests. It offers a buffet with characters at both breakfast and brunch/lunch, but then a more traditional buffet experience at night.
We enjoyed Storytellers Café for dinner and had a wonderful time! The dinner menu included fruits, salads, vegetables, chicken, fish, carved meats, and, of course, a large selection of desserts.
There's some outstanding food options at the Grand Californian Hotel, but there is one area that could be improved. The grab-and-go selection at the GCH Craftsman Bar & Grill is very small. There's a couple baked goods, a small selection of cereal and a few yogurts. We'd love to see a larger variety of items for guests on the go.
Lobby, Pools and Amenities
Admittedly, the goal of our trip was the theme parks. That didn't leave a ton of time for enjoying the extras at the resort, but we did explore and check everything out.
The main lobby has a cozy, natural feel with large stonework, dark wood and a big fireplace. It's comparable to Disney's Wilderness Lodge at Walt Disney World, but not quite as large and a darker color scheme. Live musicians, primarily a piano player, serenaded the lobby with Disney tunes, which was always fun to hear.
Three pools make up the central courtyard of the Grand Californian Hotel. None are particularly huge, but they're big enough to keep things from getting too crowded. The largest of the three pools also has a 90-foot slide that curves around a Redwood tree stump.
A fitness center and the Tenaya Stone Spa round out the property. We didn't book any Spa treatments, so we can't offer a fair review on that portion of the Grand Californian Hotel.
Overall Thoughts
We thoroughly enjoyed our stay at Disney's Grand Californian Hotel It had a warm, friendly atmosphere and some great cast members. We found the room to be comfortable, though the paper thin walls are a serious issue we think has to be remedied. It's honestly baffling the noise is as bad as it is given the hotel's strong reputation.
Food at the hotel was a strong point, though we would've liked a larger selection of grab-and-go items. If you can drag yourself away from the parks, the pools and Spa look like a great place to unwind.
The hotel's entrance directly into Disney California Adventure and the proximity to Downtown Disney and Disneyland are incredible perks. It may be the best overall feature if you want flexibility in your Disneyland visit.
Does the Grand Californian Hotel live up to its price? Overall, that depends on how much you value the convenience of its location. There's no question it costs quite a bit to stay so close to the parks, and while that was a memorable experience, it adds up quickly. Otherwise, if we're trying to reign in the spending we may check out the nearby Disneyland Hotel that sits on the edge of Downtown Disney.
Would we stay at the Grand Californian Hotel again? Yes, as long as we can find a decent discount – and as long as we remembered our earplugs.